Keeping the front gate open
Entering the front gate freely
Online since: 30/12/2010, Number of visits: 320704
Keeping the outside gate open
I used a countersunk pot magnet
CSN-ES-16
that I attached to the outside wall. Since the wall is so rough, I had to screw the magnet onto a stable metal clasp.
I also made a video of this project: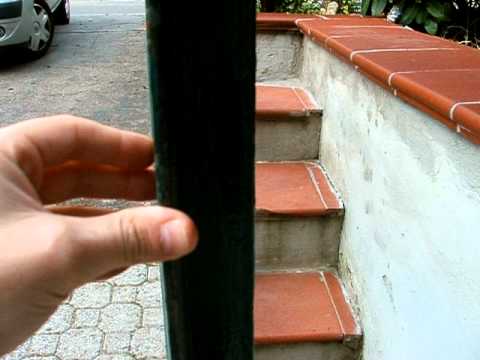 Note from the supermagnete team:
Our magnets are designed for dry indoor use. Continuous outside use will cause them to rust. For this application a ferrite pot magnet CSF-60 would be perfect.
This application is similar to project Door stopper.
Keeping the garden gate open
So, my parents put a wire loop around the hook, which should secure the gate. But my mother was complaining about having to bend over every time she needed to open or close the gate.
Thereafter, I got two larger disc magnets type
S-15-08-N
with an adhesive force of 6,7 kg respectively and attached them to the hooks with a thick layer of duct tape. This solved the problem in a few minutes (see picture below).
A new construction would have been considerably more expensive.
And since the gate's position adjusts from time to time due to temperature changes in summer or winter, it doesn't matter is the hook doesn't fit exactly on the fastener. The magnet holds it in place.
Notes form the supermagnete team:
The duct tape should protect the magnets from corrosion during wet weather. Make sure the magnets are completely wrapped.
Neodymium magnets chip easily under heavy pressure. Don't let the gate crash into the magnets. A thick layer of duct tape can protect the magnets a little from heavy blows.
Using rubberised neodymium magnets would make things easier: They are waterproof and don't break easily. For a comparable disc we recommend S-20-10-R.
The entire content of this site is protected by copyright.
Copying the content or using it elsewhere is not permitted without explicit approval.