Frame for magnets
Demonstrates the strong repulsion of two equally poled magnets
Online since: 09/11/2016, Number of visits: 286527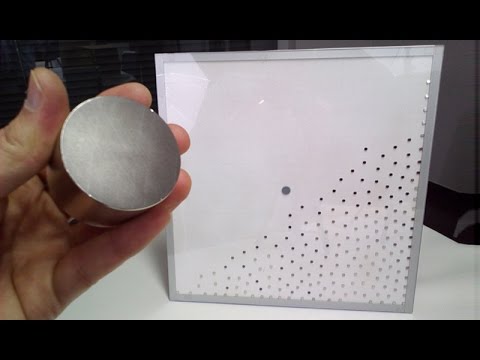 This magnetic experiment plays with the repulsion of two equally poled magnets and is very easy to make.
If two magnets approach each other they automatically turn so they attract each other. With this artistic application I found a way to prevent this automatic turning.
Materials needed
1 wooden board 50x50cm
1 transparent acrylic glass panel 50x50cm
1 aluminium profile with 2 mm thickness
200 disc magnets S-06-02-N
Double-sided adhesive tape (transparent)
Assembly
Attach the aluminium profile to three sides of the wooden board. Then attach the acrylic glass panel with the transparent adhesive tape. The wooden board and the acrylic glass panel have to be about 2 mm apart from each other (the magnets are 2 mm thick), so the magnets can be inserted without being able to turn. Now push one magnet after the other between the two plates. This way all the magnets are equally poled and repel from each other. Finally, finish the frame with another aluminium profile, so the magnets stay in the frame.
Now the frame is done! It is fun to observe the reaction of the small magnets when you move the frame or bring stronger magnets (in this case a huge magnet
S-45-30-N
) in the picture from the outside.
The entire content of this site is protected by copyright.
Copying the content or using it elsewhere is not permitted without explicit approval.