Frame 100
A work of art consisting of 100 individual magnetic pictures
Online since: 19/09/2011, Number of visits: 190752
I am the painter Giorgetti (also known as "Mark Rothko from Europe). You can view my artwork on my
website
.
With the help of your magnets I created a work of art that is probably unique throughout the world. It was exhibited in the Museum Leonardo da Vinci in Milan in November 2011. The piece called "Frame 100" contains 100 of my Rothko-style pictures.
The backside of my work is a screen-covered metal plate. Each little picture is carefully placed with a magnet. For the viewer it is not clear right away how the pictures are attached.
I used Pattex glue to attach a
magnetic disc 10 x 5mm
to the backside of each picture. The glue had to dry for 24 hours. Then I tested the glue probably 300 times to make sure the magnet doesn't come off when you attach and detach the pictures from the metal plate.
The individual pieces (see examples below) are sold for 50 euros each. To avoid holes in the big picture, there is a lithographic print of each individual picture underneath on the screen. The buyers can place the picture on a metal surface and don't need a frame for it.
Thanks for supermagnete I was finally able to realize this project that has been on my mind for years. This work of art practically put me on the map on a global scale!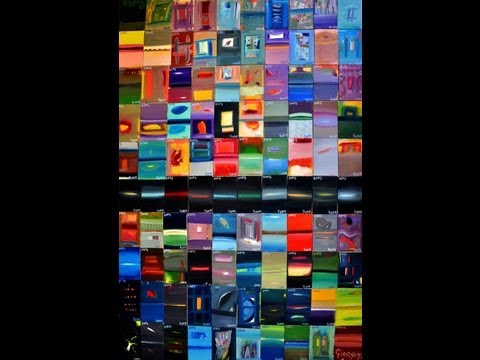 The entire content of this site is protected by copyright.
Copying the content or using it elsewhere is not permitted without explicit approval.